The first demonstrator developed at UCN can be described as a "smart chair". The chair can log the activity when the chair is used. Team member at UCN Lecture Steffen Vutborg explains: "We have now developed the first version – which is very simple. Basically, we have mounted two accelerometers on an office chair". However, this setup gives the team a good starting point for further developing the functionality of the demonstrator, being able to show other aspects of digitalizing and potentially also sustainability.
How has the demonstrator contributed to teaching?
Steffen Vutborg has already used the first demonstrator developed at UCN in his teaching. Although it is a very simple demonstrator, it has proven beneficial in teaching, exemplifying a real case scenario of transmitting and displaying data to the students. The use of a physical demonstrator also allows the students to feel and touch it, which is not always the case in our field. As the demonstrator is further developed and other, more complex demonstrators are developed in the project, they hold great potential of strengthening my teaching activities. A fundamental part of our work as teachers is to continuously develop and update our teaching material and activities, ensuring their relevance. Being able to develop tailor-made demonstrators, addressing specific technical aspects relevant to my teaching is really useful, says Steffen Vutborg.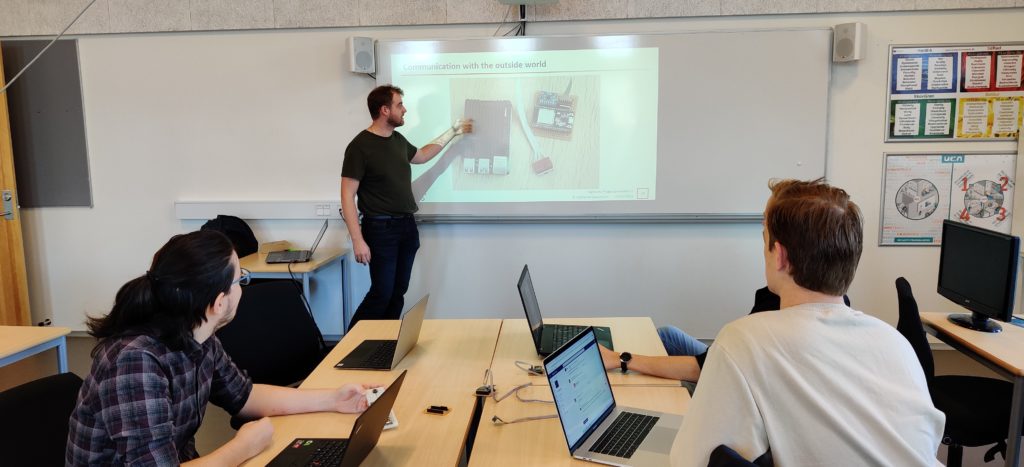 What are the next steps?
As mentioned prior, the aim is to develop the demonstrator further, adding new functionality. In this process focus will be on strengthening cross-disciplinary aspects of the demonstrator both within the field of IT and, e.g., between the field of IT and mechanics.
As this first demonstrator is very simple, we also plan to build a demonstrator-kit for each class student, rather than one class-kit, to gain flexibility and better conditions for the students.
For more information about the demonstrator, please contact Steffen Vutborg, svu@ucn.dk.