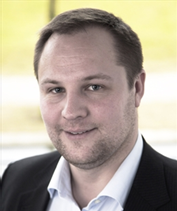 Interview with Esben Skov Laursen from Professionshøjskolen UCN, initiator and coordinator of the DigiDemo project.

What was the initial trigger to start the DigiDemo project?
DigiDemo was formed based on two global trends, digitalisation and environmental sustainability. Digitalisation and sustainability are affecting almost all parts of our today's life, and accordingly also the industry. As an educational institution we need to adapt to this development in the world around us to ensure that our graduates are fit for the future.
What is the objective of the DigiDemo project?
The overall objective of DigiDemo is to ensure that our educational programmes/graduates stay relevant and valuable to our stakeholders. In DigiDemo we focus at strengthening students' knowledge and competences within digitalisation and sustainability through the development and use of 'intelligent' demonstrators. The project aims at strengthening educational programmes, especially the partners' ones, both within the fields of mechanics and IT. The focus on educational programmes within these fields has been chosen because students and engineers from both programmes will need to cooperate even closer together in the future. And interconnecting their academic programmes strengthens their capacities in designing and developing connected and digitised products.
How did you build the consortium?
Finding the right partners for the project is one of the most important tasks when preparing a project. Therefore we formulated a list of "criteria" before starting the search. One of the main criteria was to preferentially look for small (or smaller) educational institutions as project partners. We wanted small institutional partners because we wanted a close personal contact, hopefully building long-lasting relations for future collaboration. But a smaller project like DigiDemo (compared to, e.g., a Horizon Europe project) is most likely also more attractive to smaller partners, perhaps not used or not able to participate in bigger international projects.
What is your role in the project?
I have multiple roles in the project. I am both the overall coordinator of the project, as well as the coordinator at UCN. However, I have a great team both internally at UCN and among the partners, contribution to the project and supporting me. So being the coordinator has been very easy and fun.
The DigiDemo project aims at developing demonstrators. How do you define "demonstrator"?
Defining the term 'demonstrator' has actually been an ongoing discussion in the project, as the term is very open and can have multiple meninges. However, I do not think that we need a rigid definition. We need understanding of the term to stay a bit open in order for the partners to be able to adapt it to their individual settings. We have therefore not come up with an actual definition, but one task of the project is the development of a framework for demonstrators with a set of characteristics that shall or can be addressed and that will be used by the partners to describe the demonstrators, thus ensuring also their potential use for other Higher Education Institutions in the future.